Christmas is nearly here, and for many of us, it's the time to feast! Whether it's cooking up a storm at home with family, or eating out with colleagues and friends (in groups no more than 5, of course), it's THE season to indulge. While many of our most-loved Christmas treats are high in sugar, salt, saturated fat and more, we've put together a list of festive favourites – with some tweaks – so that your feasts can be as healthy as they are delicious!
1. Glazed Ham
Healthier Swap: Sweet-and-Smoky Cedar-Planked Salmon
Christmas ham, slathered all over with a brown sugar mustard glaze is simply delightful – we know. But glaze can be an indulgence – and a fatty one at that, with its star ingredient, brown sugar. Plus, ham is heavy on the salt. Swap this out for a grilled salmon, smoked to retain its natural flavour, and you're all set for a healthier feast!
2. Roasted Turkey with Potatoes
Healthier Swap: Turkey with Roasted Sweet Potatoes and Root Vegetables
Consider sweet potatoes as the healthier alternative to your Christmas sides. Loaded in fibre, which aids digestion, sweet potatoes are also a great source of iron, vitamin C, and vitamin A. Add diversity of colour to the dish with carrots, corn or pumpkin for extra doses of antioxidants and phytochemicals. This simple yet healthy swap won't see you missing out on tasty sides.
3. Deep-fried Crackling Pork Belly with Rich Gravy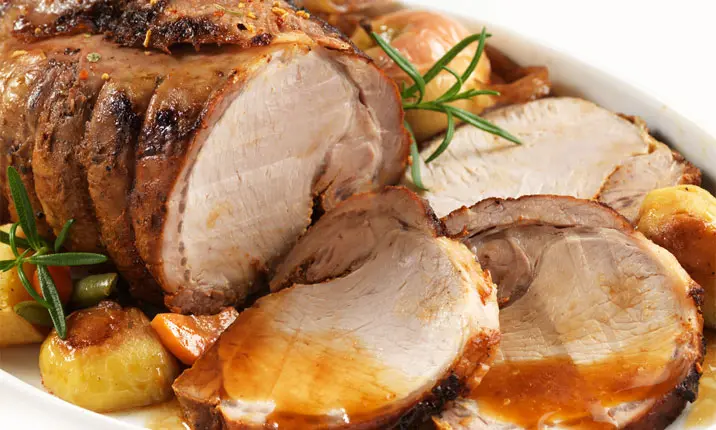 Healthier Swap: Roast Pork Loin with Apple and Cider Gravy
Crispy, fatty meat never fails in being sensational on the taste buds. But if you'd like to do away with a high-fat main this year, swap out that pork belly for a leaner cut such as pork loin. Consider roasting that loin instead, and pair it with apple and cider gravy for a more sublime, healthy but no less tasty, treat.
4. Filet Mignon with Foie Gras and Cream Sauce
Healthier Swap: Filet Mignon with Foie Gras and Carrot-potato Puree
As harmless as it may look, cream contains large amounts of sugar and fat. But that doesn't mean you have to scrimp on the cream. Simply trade it for something healthier – a delicious mash of carrot and potatoes (sweet potatoes, if you like) – and just as tasty.
5. Classic Roast Chicken with Bread & Butter Stuffing
Healthier Swap: Roast Chicken Stuffed with Pesto
Butter is the undisputed star in many baked delights – but if you'd like to go easy on saturated fat this season, try a pesto stuffing! Don't get us wrong – pesto, like butter, is also high in fat and calories. However, this delicious sauce, made from olive oil, basil and garlic, doesn't give you "empty calories". Its fat is unsaturated, which can help to lower bad cholesterol. It is also a good source of nutrients, such as vitamin C.
6. Fruit Cake
And now for dessert. Fruit cake is a traditional holiday dessert, and with its name, may be deceptively healthy. This is because its high calorie and fat content can outweigh the benefits of its individual ingredients. One alternative is fruit agar agar, a lower-calorie dessert, which can be almost completely free of added sugar if natural flavours from fruits are used. That said, fruit cake is a traditional holiday dessert that is a must-have for many dinner tables, so you don't necessarily need to scrape it off your menu – just eat in moderation!
7. Panna Cotta
Healthier Swap: Yoghurt Panna Cotta with Homemade Berry Sauce
This Italian dessert is traditionally made with sweetened cream and fruit sauce. Swap the cream with yoghurt for a low-fat dessert indulgence! Tip: you can also prepare your own sauce, sans the refined sugar and artificial colours, flavouring and additives.
Lastly, don't forget to complement your meals with a plate of celebratory salad to boost your fibre intake. Bear in mind that moderation is the key!
Here's to a holiday season that's satisfying on the tastes buds and healthier too!