For new parents, it can be daunting trying to pack your little ones on their first overseas trip while thinking about potential challenges that might crop up. Read on for tips for a stress-free holiday with toddlers.
Before the trip
1. Do your homework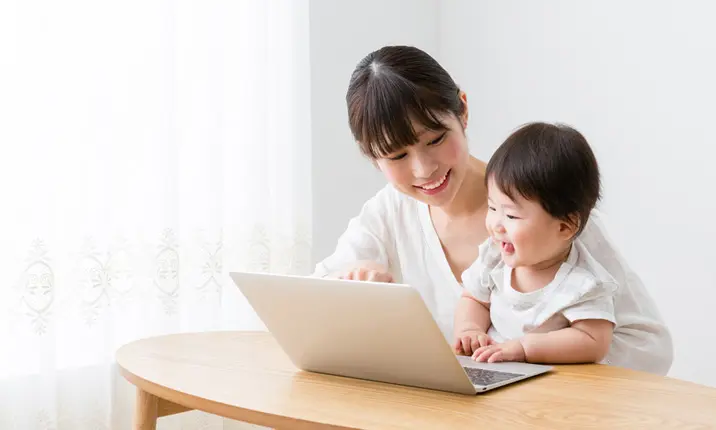 The key to a successful family vacation lies in strategic planning. Choose a safe and sanitary destination with plenty of food and activities to keep your children entertained. As toddlers love to explore, keep the itinerary flexible (preferably not more than 2 – 3 scheduled activities a day), and budget extra time for all the gawking, dawdling and toilet stops along the way.
Don't forget to also book ahead for suitable accommodation. For example, instead of staying at a hotel, you may prefer to book an apartment with access to a kitchen, where you can clean bottles and prepare meals for your kids.
2. Get immunised
As travelling increases your exposure to different diseases, safety precautions should be taken wherever possible. Depending on your travel destination, your family may need updated vaccinations against certain region-specific diseases.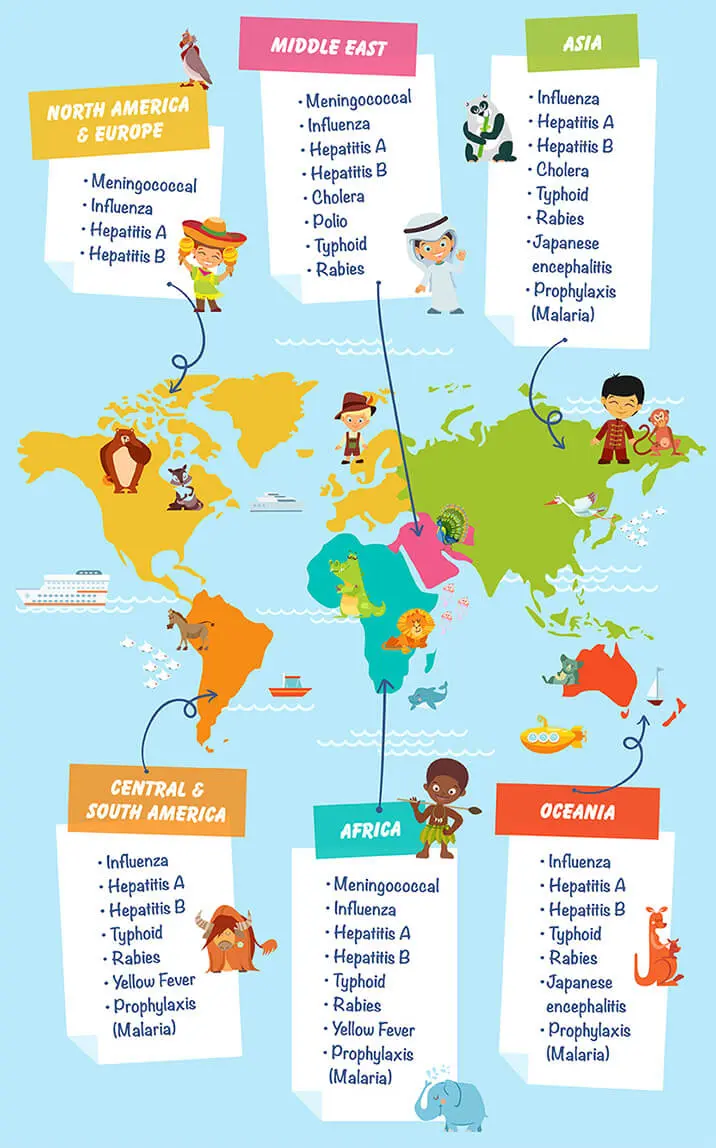 Ideally, you should make an appointment at a nearby clinic 4 – 6 weeks before departure to determine if vaccination is required and if your child is fit enough for travel. Do note that some travel vaccines cannot be given to very young children.
3. Purchase travel insurance with medical coverage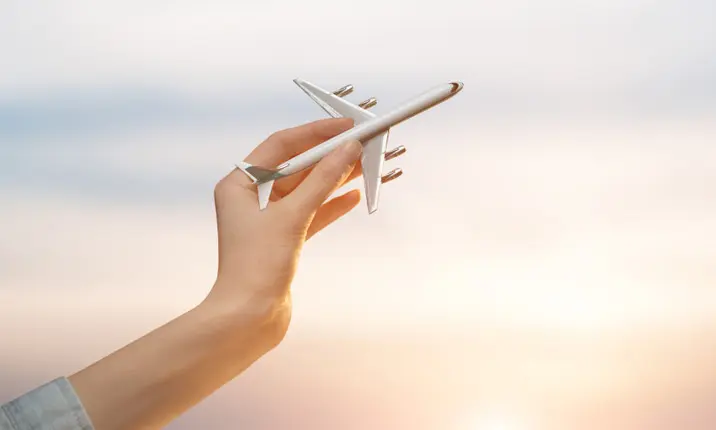 Whether you're purchasing individual or family cover, read through the policy terms carefully to make sure you know exactly what your insurance covers and what you need to do in case any member of your family incurs medical costs overseas. Keep an eye out for possible exclusions that might affect your children (eg. any medical conditions that need to be declared).
4. Check your airline's regulations
Different airlines impose different charges and regulations for travelling with children, so be sure to check the details about infant fares, baggage allowance for infant equipment, priority boarding and whether children's meals will be provided. Typically children above age 2 will be required to occupy their own seat, at around 75% – 100% of the adult fare.
If you can afford it, upgrade to premium seats. That way, your active toddler will have more room to move around, and your family gets seated towards the front of the cabin (which gives you first dibs on meals and lets you board and disembark more quickly).
5. Pack smart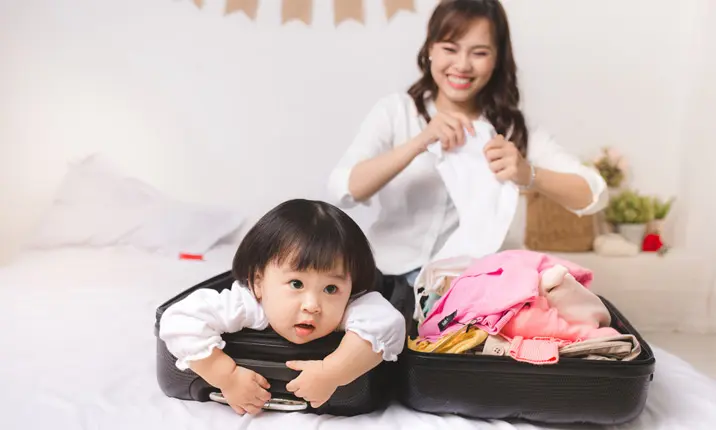 With kids, there's always a tendency to over-pack anything that they might need. But that's not practical when you're taking a flight or going on a train ride – not only do you have to pay for overweight luggage, you won't be able to take care of your kids if both your hands are already occupied with bags. So leave that toy menagerie at home and bring along only essential items in your carry-on, such as sanitising wipes, sick bags, diapers, an extra outfit or two, some fruits or snacks, a tablet with music and games preloaded, kiddie headphones, and (if you really have to) a curated selection of toys.
During the trip
6. Keep your child comfortable
An uncomfortable child is a cranky child, so dress your little toddler in soft, cosy layers that can be taken on or off depending on how cold the environment is. On plane flights, remember to put on socks for them and have a lightweight scarf ready to double up as a blanket.
7. Don't rush to board the plane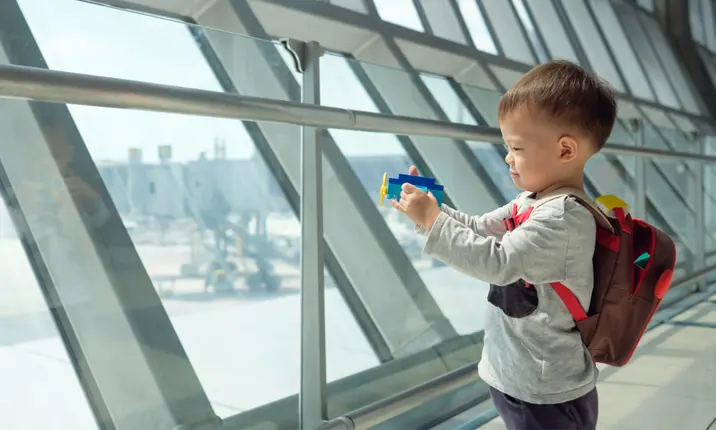 Families with young children usually get priority boarding, after first-class and frequent flier passengers. However, if your toddler is feeling restless, you might want to hold off and board later. This is where it helps to divide and conquer: send your spouse ahead with the carry-on luggage to reserve that coveted overhead compartment, while you wait with your toddler in the gate area to burn off more energy before having to strap in for the next few hours.
8. Have some sweets ready
During take-off and landing, your child will likely experience some discomfort due to changes in the middle ear pressure. Give them some water or a sweet to suck on, or allow them to latch on and suckle if they get fretful. Alternatively, encourage your child to swallow or yawn – this should also help alleviate the discomfort.
9. Get creative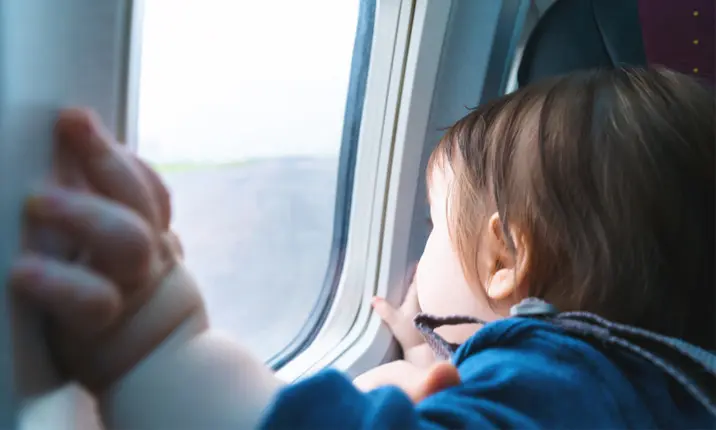 No matter how much you love them, a bored child is a pain in the rear. When in transit, keep your curious toddler from the perils of boredom by looking out of the window, doodling, playing simple guessing games, or watching cartoons on the tablet. Sometimes, even a few minutes walking up and down the plane aisle can be enough to distract your child and avoid an impending meltdown.
During the trip itself, remember to strike a good balance between sightseeing and relaxing time for the kids. You'll be amazed at how fascinated they get and how well they can play with anything.
10. Keep a first-aid kit on hand
Most importantly, remember to bring along a first-aid kit filled with any medical supplies that your family may need, as these may not be readily available at your travel destination. A basic kit should include: bandages in various sizes, antiseptics, antibiotic ointment, gauze pads, cotton wool/buds, hand sanitiser, sunscreen lotion, insect repellent, emollient creams (for dry weather or for relieving sunburn), a pair of scissors, tweezers, and a thermometer. In addition, you should also pack some medicine for common ailments, such as antihistamines for flu and acetaminophen for fever and pain relief. Some first-aid items must be approved for carry-on by security personnel prior to boarding. Be sure to check with your airline first and pack those that you cannot carry in your check-in luggage.