What is cancer?
Cancer is a disease in which some of the body's cells grow uncontrollably and is characterised by its potential to grow rapidly and spread to other parts of the body. The body's immunity normally eliminates cells with damaged DNA before they turn cancerous. However, the body's ability to do so reduces with age. This is part of the reason why there is a higher risk of cancer later in life.
The number of cancer cases has been rising over the years, and people living with cancer will continue to increase. According to the latest Singapore Cancer Registry Annual Report, 74,536 cancer cases were reported in Singapore from 2014 – 2018, of which 48.5% were males and 51.5% were females. Some common types of cancer in Singapore include cancer of the colon and rectum, breast and ovarian (for females), prostate (for men), lung and stomach.
Cancer treatment and Complementary and Alternative Medicines (CAM)

The common treatments for cancer include chemotherapy, radiotherapy, and surgery. They are used on their own or in combination with other treatment methods with the intent to treat the cancer or ease the cancer symptoms.
However, due to the nature of the treatments, patients often experience a large decrease in their quality of life because of the significant side effects. This has led to cancer patients seeking additional relief through Complementary and Alternative Medicines (CAM) to improve their quality of life. CAM has been associated with a better quality of life and symptom management in cancer patients.
Traditional Chinese Medicine (TCM) and how it differs from western medicine
A well-known form of CAM used in cancer treatment is Traditional Chinese Medicine, or TCM. Western medicine focuses on diagnosing and treating a disease based on the patient's symptoms using methods such as drugs and surgery. In contrast, TCM is based on the philosophy of treating the patient holistically, taking into consideration not only physical symptoms but the patient's physical and emotional balance and Qi, or vital energy. As disharmony or imbalance within the body is believed to be the source of illness, natural treatment methods such as acupuncture, herbs, exercise and massage are prescribed to restore a patient's Qi. The focus is not just on treating symptoms but encouraging a healthy body to prevent illness and speed up recovery.
TCM modalities include acupuncture, Chinese herbal medicine, nutrition and dietary therapy, tui na – a form of Chinese therapeutic massage, and "tai chi" and "qi gong" exercises.
How Traditional Chinese Medicine can complement western cancer treatment
An integration of Western Medicine and TCM for cancer treatment may benefit cancer patients. TCM is not meant to be the main treatment mode for cancer. However, it can be an effective complement to cancer treatment.
Improving quality of life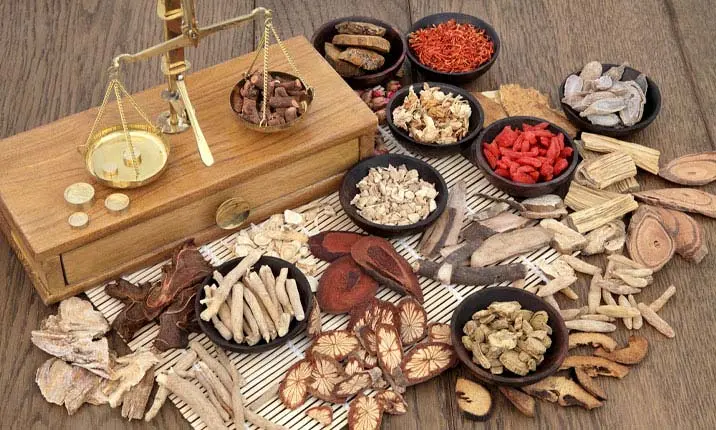 Evidence-based medicine has demonstrated that cancer patients can benefit from the use of TCM in cancer treatment. A 2015 systemic review on Chinese herbal medicine reported that Chinese herbal medicines had beneficial therapeutic effects on the quality of life among cancer patients, with no serious adverse effects reported.
Alleviating side-effects from cancer treatment
In addition to herbal medicine, acupuncture can also be used to alleviate side-effects and improve the quality of life of cancer patients without adding to the chemical burden already carried by cancer patients and contributing to further side effects. Cancer treatments such as chemotherapy, surgery and radiotherapy often result in debilitating side-effects such as fatigue, nausea, vomiting and loss of appetite.
Studies have shown that acupuncture has a positive effect on the treatment of depression, anxiety and sleep disturbances, and quality of life for cancer patients. Another 2005 study published in the Journal of Clinical Oncology reported positive benefits of acupuncture for chemotherapy-induced nausea and vomiting.
Holistic treatment for cancer
As TCM takes a holistic approach to treatment, it also considers a wide range of external factors that can compromise the body's immunity and provides tailored advice and treatment to target the root issues of the disease. For instance, cancer patients would be advised to get enough rest, take nutritious foods, stay active, keep their stress levels low and maintain a positive mental health.
Final words
While TCM has been shown to be an effective complement to Western medicine in the treatment of cancer for patients, it is important that patients first seek the advice of their doctor before starting any complementary treatment. You should also let your doctors know if you are already undertaking any other forms of complementary treatment, such as Chinese herbal medicine. Your doctors will be able to advise you on your suitability for TCM and guide you on how you can integrate these two forms of treatment for better treatment outcomes.