As parents, it can be challenging juggling a busy schedule both at work and at home. From striving to excel at our jobs to looking after the children, there's never a spare moment in the day. One of the biggest challenges? Finding ways to keep our little ones well-fed, especially if they're fussy eaters.
We know how tiring it can be after a workday to prepare a meal that caters to everyone's palates, so we've asked dietitian Jennifer Shim to share some useful tips and recipes. With smart meal planning, you'll be able to whip up fuss-free home-cooked dishes that are both nutritious and delicious for the entire family.
Tip 1: Understand that caloric needs can change.
We all need to consume a certain amount of calories to keep up with our daily activities. But consuming more than what is required can lead to weight gain and in the long run, other chronic diseases such as high blood pressure and type 2 diabetes.
According to Jennifer, the recommended daily caloric intake is 2,200 kcal for an adult male of average weight and physical activity in Singapore, and 1,800 kcal for an average adult female.  However, note that this is just a recommended guideline. "The caloric requirement varies according to each individual's age, height, weight, activity level or existing medical condition," explains Jennifer.
With many of us now working from home during the pandemic, it is likely we will have lower energy expenditure than before and thus lesser caloric needs. For example, if you used to walk or cycle to work, and stopped doing so because of work-from-home arrangements, you may need to reevaluate how much you're eating and plan for smaller meals throughout the day.
Tip 2: Keep in mind the nutritional needs of growing children.
Like adults, children need to have a healthy, balanced diet from all food groups, including meat and others, calcium-rich foods, brown rice and wholemeal bread, fruits as well as vegetables.
Important nutrients for your growing child include:
Calcium. This is the key building block for healthy bones and teeth, so it is important for a growing child to have enough calcium for their bones to grow longer and stronger. Sources that are high in calcium include dairy products such as milk, cheese or yoghurt; calcium-fortified food such as soy milk; dark green vegetables; and fish with edible bones such as sardines.
Protein. Proteins help to build, maintain and repair body tissue, which is important for growth.
Iron. With the rapidly expanding blood volume during growth, children will need adequate iron intake to meet their growing needs.
Apart from these nutrients, children should also keep to adequate serving portions for the various food groups. Here's a look at the recommended number of servings per day for different age groups: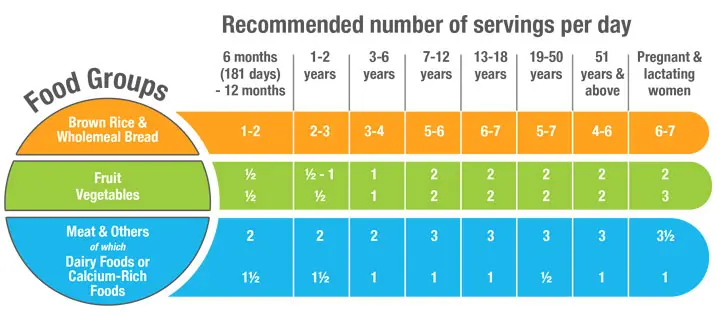 (Source: Ministry of Health Singapore)
Tip 3: Play up the flavours and use fresh ingredients for cooking.
Children can be fussy over their diet – and this seems to be most evident when trying to feed them healthy food! To encourage healthy eating habits in your child, set a good example by eating healthily yourself. For example, you could use healthy cooking methods such as steaming, boiling, baking, grilling and poaching to reduce deep-fried food intake at home. Another tip is to use healthier oil for cooking (such as olive oil, canola oil or sunflower oil) to reduce saturated fat intake. Do also limit usage of salt and sugar while preparing food.
Jennifer also recommends using fresh ingredients to coax your child into eating, such as herbs and spices, or naturally sweet food such as sweet potatoes, yam, carrot, winter squash or fruits. "Using home-cooked broth to enhance the flavour profile is also a healthier, child-friendly option," she adds.
Tip 4: Plan the meals in advance for better nutritional variety.
Planning ahead can help ensure your family has a variety of nutritious and delicious food to enjoy throughout the week.
For one, plan to include high-fibre food (such as brown rice and wholemeal products) in at least 1 to 2 meals a day. Fruits and vegetables should also be part of the family's regular diet.
You could also prepare healthy snacks in advance, such as cut fresh fruits, nuts or vegetables like cherry tomatoes or cucumbers.
If you have a growing child, Jennifer emphasises the importance of including calcium in their diet. "Consider options such as cheese sandwich, fruits with yoghurt, or incorporate milk into your cooking for dishes like mashed potatoes, creamy pasta or soups," she advises.
Ready to get cooking? Here are some healthier recipes to try:
Baked paper-wrapped fish with tomato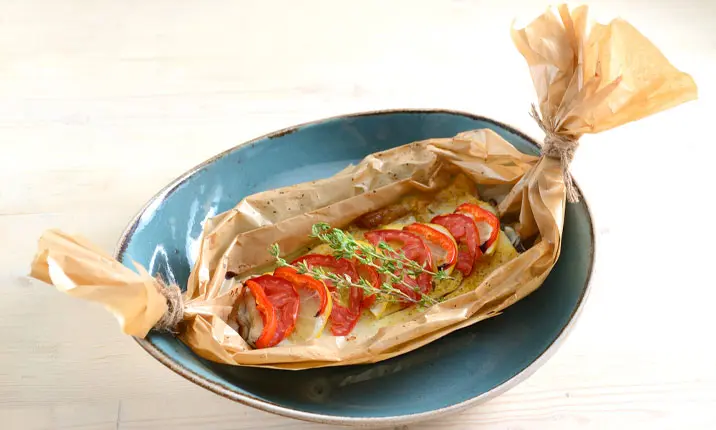 Small on effort but big on flavour, here's a dish where clean-up's a breeze.
Ingredients:
4 150g fish fillets
4 sprigs of rosemary
4 cloves of garlic, thinly sliced
200g cherry tomatoes
4 tablespoons of extra-virgin olive oil
1 lemon, quartered
Kosher salt
Freshly ground black pepper
Method:
Preheat oven to 200°C.
Place each fish fillet on a piece of non-stick parchment paper.
Season each fillet with salt and pepper, then drizzle over one tablespoon of olive oil and some lemon juice. Add a sprig of rosemary, garlic slices and cherry tomatoes.
Fold parchment paper to seal the fish packet.
Bake for 20 minutes and serve warm.
(Recipe adapted from Food & Wine)
Pan-fried chicken and vegetable dumplings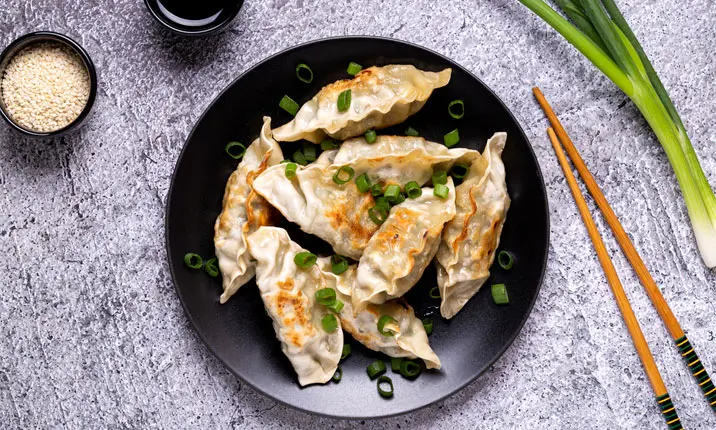 A fragrant and healthy side dish. Pair it with dipping sauce for more flavour.
Ingredients:
300g minced chicken
100g mixed vegetables
1 scallion, chopped
Salt and pepper, to taste
½ egg
2 packs of wonton skin
2 tablespoons of vegetable oil
Dipping sauce (optional)
Method:
Add minced chicken, mixed vegetables, scallion and egg to a bowl.
Mix evenly and season to taste.
Wrap the mixture into small wontons, taking care to press out any air bubbles.
Heat cooking oil in a pan. Once the oil is hot, place wontons in a single layer.
Cook till the bottoms are golden brown, then add 2 tablespoons of water and cover pan with a lid. Allow the wontons to steam till fully cooked.
Remove wontons from pan and serve hot with a dipping sauce.
(Recipe adapted from Food Network)
Home-made vegetables soup fish noodles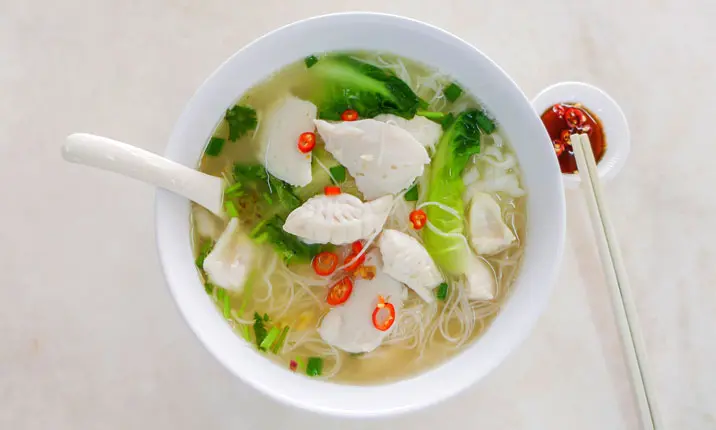 This bowl of hot soupy goodness is comfort food for the soul.
Ingredients:
2 small carrots, peeled
1 red capsicum, deseeded
200g green beans
2 scallions
1.5L home-cooked stock
200g mung bean or soba noodles
300g boneless white fish slices
¼ cup fresh parsley, for garnish
Method:
Slice carrot and capsicum into thin strips. Also trim the green beans and cut into 3cm lengths.
Bring the stock to a boil and add the vegetables. Reduce heat and cook for a few minutes until the vegetables are softened.
Meanwhile, blanch the noodles in a separate pot of boiling water.
When the noodles are almost ready, add the fish slices into the hot vegetable soup.
Drain the noodles and dish into individual serving bowls. Top off each bowl with cooked fish slices and vegetable soup.
Garnish with chopped fresh parsley. Serve hot.
(Recipe adapted from Taste.com.au)