Sleep is vital for our physical health, cognitive functioning, and emotional well-being. There seems to be an ongoing debate over a seemingly straightforward question: "How much sleep do I really need?"
The answer to this question is far from one-size-fits-all. The amount of sleep you need varies significantly over the course of your lifetime. It depends on your age, lifestyle, overall health, and other individual factors. Learn more about sleep requirements and general guidelines for different age groups. The National Sleep Foundation's guidelines provide a helpful starting point. Here are their recommended sleep durations per day based on age:
How much sleep do newborns and children need?
Newborns (0 – 3 months): 14 – 17 hours
Infants (4 – 11 months): 12 – 15 hours
Toddlers (1 – 2 years): 11 – 14 hours
Preschoolers (3 – 5 years): 10 – 13 hours
School age children (6 – 13 years): 9 – 11 hours
How much sleep do teenagers need?
Teenagers (14 – 17 years): 8 – 10 hours
Younger adults (18 – 25 years): 7 – 9 hours
How much sleep do adults need?
Adults (26 – 64 years): 7 – 9 hours
Older adults (65+ years): 7 – 8 hours
While these ranges provide general guidance, individual sleep needs may vary. Factors like stress, physical activity, overall health, and sleep quality can influence the amount of sleep you need.
Why are sleep requirements different as we grow older?
Sleep requirements change as we age due to various physiological, neurological, and lifestyle factors. During infancy and childhood, the body undergoes significant growth and development, necessitating more sleep. As we transition into adulthood, our sleep requirements decrease, and the pattern tends to remain relatively stable throughout adulthood.
In older adults, multiple factors, including changes in circadian rhythms, increased prevalence of health conditions, and medication usage, often lead to alterations in sleep patterns, such as more frequent awakenings and less time spent in deep sleep stages.
What happens when we don't get enough sleep?
When we don't get enough sleep, it impacts various aspects of our health and well-being:
Cognitive impairment: Sleep is crucial for cognitive functions such as memory, attention, and learning. Sleep deprivation can impair these functions, leading to reduced productivity and performance.
Mood disorders: Lack of adequate sleep can lead to mood disturbances, increased stress, anxiety, and even depression.
Physical health: Chronic sleep deprivation is associated with an increased risk of several health problems, including cardiovascular disease, diabetes, obesity, and a weakened immune system.
Safety risks: Insufficient sleep can lead to increased drowsiness and decreased alertness, raising the risk of accidents and injuries.
Why am I always sleepy no matter how much sleep I get?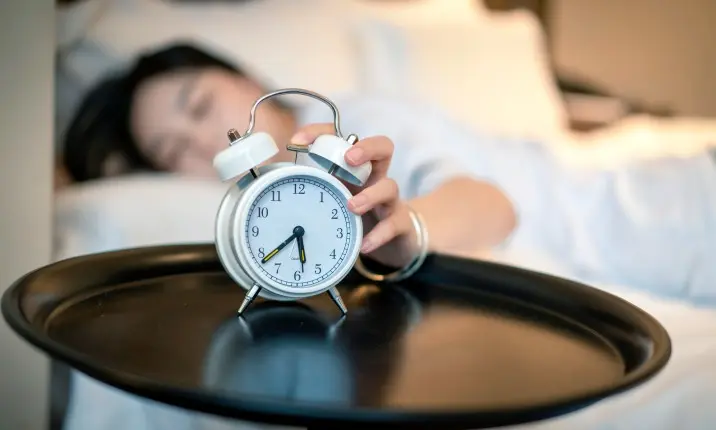 Feeling consistently sleepy regardless of the amount of sleep you get may be a symptom of an underlying condition. A variety of factors, both lifestyle and medical, could be at play.
Lifestyle factors
Poor sleep quality: Even if you are clocking in plenty of hours, the quality of sleep may be poor. Disturbances during sleep, a non-restful sleep environment, or an irregular sleep schedule can prevent you from getting restful sleep.
Lack of physical activity: Regular exercise can help regulate your sleep patterns. A sedentary lifestyle might leave you feeling tired or fatigued throughout the day.
Unhealthy diet: Your dietary habits can influence your energy levels. A diet high in processed foods, sugar, and unhealthy fats can lead to fluctuations in blood sugar levels, which might result in feelings of fatigue.
Stress and mental health: Persistent stress, anxiety, or depressive symptoms can also lead to feelings of constant tiredness.
Medical factors
Sleep disorders: Conditions like sleep apnea, insomnia, and restless legs syndrome can interrupt your sleep cycle, leading to feelings of tiredness during the day.
Chronic Fatigue Syndrome (CFS): CFS is characterised by extreme, unexplained fatigue that doesn't improve with rest and may worsen with physical or mental activity.
Hypothyroidism: An underactive thyroid (hypothyroidism) can lead to feelings of fatigue, among other symptoms.
Anaemia: Anaemia, a condition characterised by low levels of red blood cells, can result in persistent fatigue.
In summary, getting the right amount of quality sleep is crucial for various aspects of health.
It is during sleep that your body heals cells, rejuvenates the immune system, consolidates memories, and restores energy. Chronic sleep deprivation can lead to various health problems, including cardiovascular disease, obesity, and mental health disorders.
On the other hand, excessive sleep can also be problematic. Some studies suggest that regularly sleeping more than the recommended amount can be linked to health conditions like diabetes, heart disease, and increased risk of death.
In conclusion, sleep is not a luxury, but a necessity. Finding your individual optimal sleep duration is a key part of maintaining good health and well-being. Remember, it's not only about the quantity of sleep but also about its quality.
If you're sleeping within the recommended time frame but still feel drowsy and fatigued, it might be time to look at the quality of your sleep or consult with a healthcare professional.