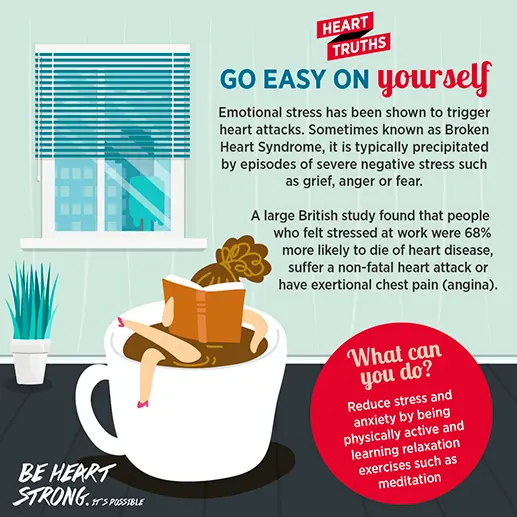 Emotional stress has been shown to trigger heart attacks. Sometimes known as broken heart syndrome, it is typically precipitated by episodes of severe negative stress such as grief, anger or fear.
A large British study of over 10,000 white collar workers over a 12-year period found that people who felt stressed at work were 68% more likely to die of heart disease, suffer a non-fatal heart attack or have exertional chest pain (angina). Researchers in South Korea found that an increase in the number of working hours per week correlated with increased incidence of heart disease.
Sleep is important, especially for teenagers who need around nine and half hours of shut-eye a night. Research has shown that teens who are sleep deprived or have disturbed sleep are more likely to suffer from both high blood pressure and high cholesterol – both precursors of heart disease.
Reduce stress and anxiety by being physically active and learning relaxation exercises such as meditation. Sharing your fears and worries with someone can also help to prevent depression. You can also reduce the effects of artificial stress on the heart by drinking less coffee and alcohol.
Find out some of the medical procedures available should you need to undergo heart treatment.
For your peace of mind, talk to one of our heart specialists today or read about how to make healthcare insurance claims to cover your hospital bills.