As of 11 August 2021, 3,992,931 individuals have completed their COVID-19 vaccination regime, and news from the Health Sciences Authority (HSA) indicates that come the third quarter of 2021, there will be enough vaccines for everyone in Singapore to be inoculated.
The vaccines all protect against severe and symptomatic forms of COVID-19, and they are helping to blunt the spread of the SARS-CoV-2 virus, the cause of COVID-19. Until enough people get vaccinated and 'herd immunity' is achieved, you should still continue to take appropriate precautions the in protecting yourself. These measures are important even if you have received full course of the COVID-19 vaccine.
Technology and the Different COVID-19 Vaccine Types
There are over 10 COVID-19 vaccines in use in various parts of the world, using different types of vaccine technologies. There are 4 main vaccine types available. These include 2 genetic vaccines using either mRNA or DNA to deliver the instructions for making the COVID-19 antigen; in this case, that's the SARS-CoV-2 spike protein which in turn elicits an immune response and provides protection against the coronavirus. Other more conventional vaccines involve using either whole inactivated viruses or fragments of the virus to provoke immune protection.
mRNA Vaccines
Both the Moderna and Pfizer-BioNTech/Comirnaty* vaccines use mRNA (messenger RNA) technology. The current COVID-19 mRNA vaccines are the first to be approved for human use, however technology and research behind this vaccine platform has been over 30 years in the making. mRNA vaccines work by injecting pieces of the virus' genetic code into the body to provoke an immune system reaction which then enables the body to defend itself against the coronavirus. The mRNA in the body breaks down fully within 48 hours. As it doesn't enter the human nucleus, it does not affect human DNA. Both mRNA vaccines require 2 doses for adequate protection, and the doses are administered at least 3 – 4 weeks apart.
*Comirnaty vaccines carry the same research name as the Pfizer-BioNTech COVID-19 vaccines, BNT162b2. HealthHub records will be updated accordingly and the vaccine will now be labelled Pfizer-BioNTech / Comirnaty.
Modified Viral Vector Vaccines
Oxford AstraZeneca, Johnson & Johnson, CanSino and Sputnik V vaccines employ a modified harmless "delivery" or shuttle virus to introduce instructions to the person's cells to make viral proteins; the body's immune system then mounts a defence against it. The delivery virus is attenuated or modified so that it cannot cause you to fall sick, though you may experience short term symptoms that feel like the common cold.
Inactivated Whole Virus Vaccines
Sinovac and Sinopharm are inactivated whole virus vaccines, in which the virus is weakened or deactivated. This type of vaccine is effective in triggering an immune response but may require booster shots to maintain sufficient protection. Inactivated whole virus vaccines are well-established, and they are suitable for use even in those who have compromised immune systems.
Protein Subunit Vaccines
Protein subunit vaccines such as Novavax use only specific parts of the virus which are sufficient to trigger an immune response. This type of vaccine helps to minimise the risk of side effects, is suitable for those with compromised immune systems but may require booster shots. Novavax is presently undergoing phase 3 clinical trials, and may be available in Singapore by end-2021.
What are the differences in efficacy?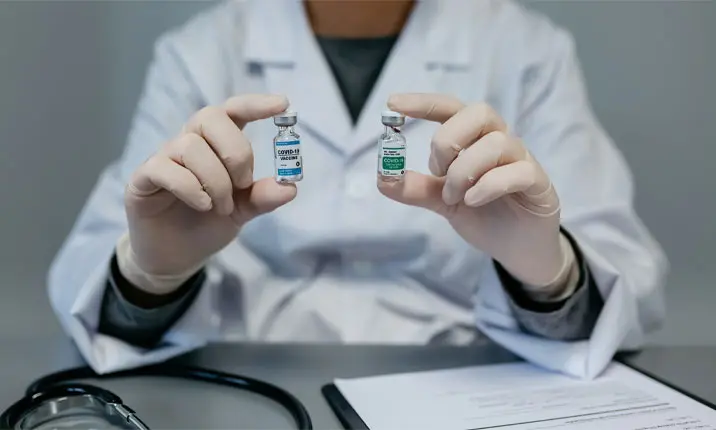 All currently approved vaccines protect well against severe COVID-19 disease, death and the need for hospitalisation. The various vaccines differ in their protection against clinical infection, duration of immunity and protection against new viral variants.
Here is a look at the vaccines on the WHO Emergency Use Listing and their efficacy:
Vaccine
Efficacy
Pfizer-BioNTech/Comirnaty
• 95% in those without prior infection
• 100% effective in preventing severe disease in clinical trials
Moderna
• 94.1% effective in preventing symptomatic infection in those without prior infection
• 86.4% efficacy in people 65 years and older
Oxford AstraZeneca
• 76% effective in reducing the risk of symptomatic disease upon completion of two doses
• 100% effective against severe disease
Johnson & Johnson
• 72% overall efficacy
• 86% efficacy against severe disease
CanSino
• 65.7% efficacy in preventing symptomatic disease
• 90.98% efficacy in preventing severe disease
Sinovac
• 51% efficacy in preventing symptomatic disease
• 100% effective in preventing severe COVID-19 and hospitalisation
Sinopharm
• 79% efficacy in preventing symptomatic disease and hospitalisation
Novavax
• Over 90% effective in late-stage trials
• 100% protection against moderate and severe disease
Covishield
• 63.09% against symptomatic disease
Pfizer-BioNTech's vaccine has a reported 95% effectiveness while Moderna's has charted a 94% efficacy. Conversely, Oxford AstraZeneca's vaccine measured 70% efficacy overall, although there was a small group of volunteers that received a lower dose and recorded a higher 90% efficacy. Also, Sinovac Biotech has been found to be 50.4% effective – barely over the 50% needed for regulatory approval.
Additionally, the vaccines require storage at very low temperatures. The Pfizer-BioNTech vaccine needs to be stored at around –70 Celsius while the Moderna vaccine can be stored at –20 Celsius. This means that transportation and distribution will pose challenges.
Vaccines Approved by Singapore Health Ministry
Russia's Sputnik V COVID-19 vaccine is cited to be more than 90% effective, but this is data from public vaccinations instead of from an ongoing trial. This vaccine has been rolled out for domestic use even though late-stage trials are not yet complete.
Moderna and Pfizer-BioNTech/Comirnaty vaccines
Moderna and Pfizer-BioNTech/Cominarty have both received emergency use authorisation in many countries, such as the United States for the former, and here in Singapore and the United Kingdom for the latter.
Comirnaty vaccines, which carry the same research name as the Pfizer-BioNTech COVID-19 vaccines, BNT162b2, have recently been approved for use in Singapore. On HealthHub records they will now be labelled Pfizer-BioNTech / Comirnaty.
As of 8 December 2020, the UK was the first country to start vaccinating its citizens with the Pfizer-BioNTech vaccine. Today, the UK is also using the COVID-19 vaccines from Oxford AstraZeneca, Moderna and Johnson & Johnson. Approximately 42 million people have received at least 1 dose, with priority being given to those above 50 and other high-risk categories including those living and working in care homes, healthcare frontliners, those with underlying health conditions and those who are clinically vulnerable.
In the US, 312 million doses have been administered to priority groups, namely healthcare workers, nursing home residents, people over 75 and essential workers , using COVID-19 vaccines from Pfizer-BioNTech, Moderna and Johnson & Johnson.
In Singapore, the expert committee on COVID-19 vaccination have confirmed both Moderna and Pfizer-BioNTech/Cominarty vaccines have a consistent vaccine efficacy of around 90%. This is based on pivotal Phase 3 clinical trials as well as roll-outs around the world, with assessments from international regulatory bodies such as the US Food and Drug Administration (US FDA) and British Medicines and Healthcare Products Regulatory Agency (MHRA) confirming that mRNA vaccines continue to be effective against COVID-19.
Sinovac and Sinopharm vaccine
The Sinovac and Sinopharm vaccines are approved for use in Singapore and available under the Special Access Route (SAR), which means it is not subsidised. This route allows private healthcare providers to obtain and administer the Sinovac and Sinopharm vaccines to individuals 18 years and above who wish to have it.
Myths & misconceptions
As with any medical innovation, there are a few misconceptions about the COVID-19 vaccines that have made its way through social media and messaging platforms.
Many people are under the impression that the production of these COVID-19 vaccines was rushed to be put on the market, and have not completed enough clinical trials.
In the past, traditional vaccines take an average of about 10 years to develop and don't usually get approved in less than 5 years. A multitude of fortuitous events allowed for the rapid development of an effective COVID-19 vaccine. This included the massive amounts of public funding that were committed to support the development and manufacturing of the vaccines. The technology used in the mRNA vaccine had also been in development already for a few decades; it was novel and amenable to rapid design and deployment. Further, given the urgency of the pandemic and degree of volunteerism, large vaccine clinical trials could be undertaken; this was done without any compromise in quality or standards. The global scientific community also displayed tremendous unity to combat the new virus with an extraordinary amount of data sharing and transparency.
Advances in technology have also streamlined data-recording while social media made it easier to recruit people for human trials. As for approval, a 'rolling review' process – where information is released to healthcare regulators as soon as new data was acquired – helped speed up a process that would have traditionally taken between 6 – 9 months to achieve when data was submitted in batches.
Another commonly held misconception is the effect of mRNA on the body. There is fear the mRNA vaccine may permanently and irreversibly alter our body's genetic structure. That couldn't be further from the truth. This is because mRNA, (messenger RNA) in the vaccines does not enter the nucleus of human cells where our DNA lies. Further, mRNA degrades quickly and does not persist or integrate into the human genome.
How long have the COVID-19 vaccines been in use in Singapore?
Singapore received its first shipment of the Pfizer-BioNTech COVID-19 vaccine on 21 December 2020 and the Moderna vaccine was endorsed by the Expert Committee on COVID-19 Vaccination in February 2021.
The Pfizer-BioNTech/Comirnaty and Moderna COVID-19 vaccines are both approved by the Health Sciences Authority (HAS) for use in Singapore under the Pandemic Special Access Route (PSAR). HSA has also approved the Pfizer-BioNTech/Cominarty vaccine for children aged 12 and above.
The Novavax vaccine is expected to be available in Singapore by end-2021.
In the meantime, Sinovac and Sinopharm vaccines are available at private healthcare providers for those 18 years and above. For those who are keen to receive the Sinopharm vaccine, you may register your interest here.
Vaccination will be on a voluntary basis with priority given to frontline and healthcare workers, followed by with the elderly and vulnerable. Vaccinations will be free for all Singaporeans and this includes long-term Singaporean residents currently residing here.
To-date, over 3.5 million individuals in Singapore have completed the full vaccination regimen.
This nation-wide vaccination exercise will take time before everyone can get vaccinated and herd immunity built. It will be some time before life returns to normal.
Even after receipt of the vaccine, we will still have to do our part by continuing to keep our hands clean with regular hand washing and sanitisation, mask wearing and social distancing.
Who can take the COVID-19 vaccines?
The Pfizer-BioNTech/Cominarty and Moderna COVID-19 vaccines are mRNA-based vaccines. The Pfizer-BioNTech/Cominarty COVID-19 vaccine is approved for use in children 12 years and above while the Moderna COVID-19 vaccine is approved for those who are 18 and above. As more data on safety and efficacy become available, these age restrictions may change.
Children
Following the confirmed cases of over 40 infected students across a span of 4 weeks in April-May 2021, and evolution of the virus variants, a student vaccination was announced. This exercise is ongoing. Children aged 12 years and above as at 1 June 2021 are invited to sign up for vaccination. At present, this includes primary and secondary schools, junior colleges, the Millennia Institute, madrasahs, special education schools, and the international arms of Hwa Chong Institution, Anglo-Chinese School and St Joseph's Institution
Women who are pregnant or breastfeeding
The Expert Committee on COVID-19 Vaccination has reviewed studies on women who were vaccinated while pregnant and there is no evidence to suggest that the mRNA-based Pfizer-BioNTech/Comirnaty or Moderna COVID-19 vaccines may cause harm to pregnant women or their babies. As mRNA-based vaccines are not live vaccines, they are unlikely to affect breastfed babies and there have been no vaccine-related side effects reported in babies who were breastfed by mothers who were vaccinated while breastfeeding.
Vaccinations for pregnant women have already begun, in women who are at least in their 13th week of pregnancy.
Who should not receive the COVID-19 vaccines?
Those with a history of allergic reactions of anaphylaxis to the mRNA COVID-19 vaccines or its components. Anaphylaxis is a severe, life-threatening reaction which includes two or more of these three criteria: hives or swelling of the face, eyelid, lip or throat; difficulty breathing; or dizziness. If you have experienced these symptoms with other vaccines, you may be able to receive the COVID-19 mRNA-based vaccines if you have been evaluated by a specialist and deemed suitable. A referral to a specialist may be provided at vaccination sites, and the evaluation will be fully subsidised. Those with a history of anaphylaxis to other medications, food, insect stings or unknown triggers may still be vaccinated.

Individuals who are severely immunocompromised, which includes those who have received an organ or stem cell transplant within the past 3 months, undergoing aggressive immunotherapy for non-cancer conditions, receiving HIV infection with CD4 < 200 cells/mm3
If you have yet to be vaccinated against COVID-19, it is important for you to receive a COVID-19 vaccine as soon as you can to protect yourself against developing severe COVID-19 infection. The benefits of receiving approved COVID-19 vaccines outweigh the risks.
The Sinopharm vaccine will be made available soon to interested individuals at Parkway Shenton clinics. You may register your interest with us to be kept informed once the vaccine is made available. Do discuss your suitability for the Sinopharm vaccine with your doctor if you intend to take the vaccine.