It's been over a year since COVID-19 made its way to every corner of the world. Singapore wasn't spared but with quick action and reliable testing, active cases are swiftly dealt with. At the moment, there are two main types of COVID-19 tests commonly used to detect infections. Diagnostic tests are done to confirm if you currently have the virus and antibody (serology) tests help to identify people who have previously been infected with the virus by looking for antibodies in their immune system.
Diagnostic tests (the sample is usually taken with a swab from the nose/mouth)
Diagnostic tests are the Antigen Rapid Test (ART) and Polymerase Chain Reaction (PCR) test that look for active coronavirus infection in the mucous or saliva. ART tests look for the coating or proteins from the virus while PCR tests detect nucleic acid (RNA), the genetic material of the virus. RNA tests are very sensitive and can remain positive even after the person has gotten better and is no longer infectious.
Antibody tests (also known as serology tests – blood tests that look for antibodies in your blood)
Antibody tests look for coronavirus antibodies in people who have been infected with the virus. Antibodies are proteins made by the immune system to fight infections. The timing and type of antibody test affects accuracy as it can take 1 – 3 weeks after infection for your body to develop enough antibodies to be detected in a test. Antibody tests are a good way to determine if you have had significant exposure to the virus in the past but should not be used to diagnose someone with an active infection, due to the delay in production of antibodies after exposure to the virus.
Swab or finger prick?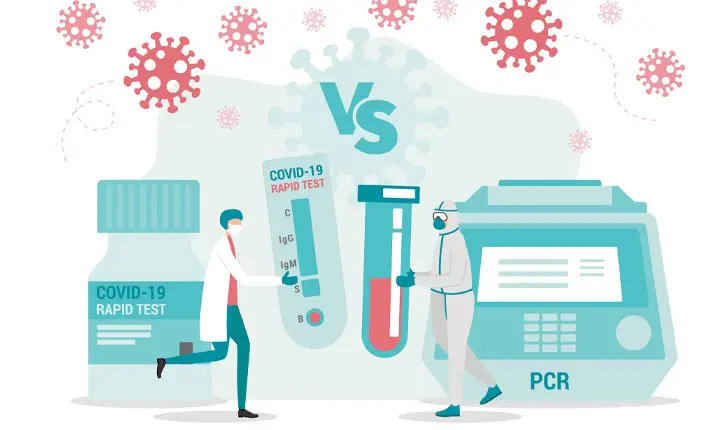 In Singapore, both ART tests and PCR tests are done by swabbing the back of the nose or throat to collect secretions for testing. The difference is that antigen tests can produce results in an hour or less. Due to the possibility for false positive or false negative result from the ART test, a further PCR test may be ordered to confirm the result.
A COVID-19 PCR test result can be shared as early as 24 hours after sample collection. After the person has cleared their nose, samples are taken from the back of the nose or back of the throat. The back of the nose is preferred as it contains the highest viral load. The process may feel slightly uncomfortable and might even cause one to tear up. As for an oral swab, it will be placed down the throat for 2 – 3 seconds. The sample will be placed in a secure container before being sent to the laboratory for testing.
An antibody test is usually done after full recovery from COVID-19. A blood sample will be taken by a healthcare professional via finger prick or venous blood draw and then sent for testing.
Breathalyser tests
Two breathalyser tests are approved for use in Singapore to help provide faster, more frequent testing. Currently used to help facilitate speedy checks for safe travel, Breathonix demonstrates 85.7% sensitivity and 97% specificity, with results in 60 seconds or less, while TracieX has 95% sensitivity and 97.8% specificity, with results in 2 minutes.
Do-it-yourself self-test kits
Those who wish to test themselves more frequently may purchases do-it-yourself kits from pharmacies. Designed for easy self-administration, it provides results in under 20 minutes.
Here's a quick outline of the pros and cons of each test.
Types of COVID-19 tests
PROS
CONS
ART test
• Quick turnaround time
• Inexpensive to produce and easily scalable
• May require confirmation using PCR testing
• May not pick up people in very early stages of infection.
PCR test
• Detects presence of antigens, even before symptoms appear
• Gives accurate results
• Labour intensive and requires trained personnel and specialised equipment
• Longer processing time and more costly than other tests
Antibody test
• Able to provide evidence of past infection
• Not useful for diagnosis of active infection
Breathalyser test
• Quick results
• Currently deployed at travel checkpoints only
How can I get tested?
The Ministry of Health has recently approved the use of do-it-yourself, self-test kits that can be purchased at pharmacies. Designed to be self-administered, these tests will allow more frequent testing for greater peace of mind, should individuals wish to be tested more often. Anyone who tests positive using a self-test kit should immediately approach a SASH clinic for a confirmatory test, and self-isolate while awaiting results.
As of 1 December 2020, COVID-19 PCR swab testing is available from approved providers to all individuals, including non-travellers, without the need for approval from the Ministry of Health. There are around 600 clinics and providers that can conduct COVID-19 tests in Singapore.
If you have to travel for work, Parkway Laboratory Services are currently offering the antibody test (blood test) which is required for travellers heading to China as they need to have an IgM antibody test in addition to the PCR test. Each IgM test costs S$28 nett.
Additionally, the Pre-departure COVID-19 PCR swab test is available at selected Parkway Shenton clinics for all travellers and each test will cost S$170 nett. The test must be done 48 – 72 hours before the flight and the result memo will be sent via email within 48 hours. Parkway is partnering with Accredify to issue verifiable digital COVID-19 swab results to travellers which are in-line with international standards and Singapore Government's requirements, making them internationally recognisable. Outbound travellers can present their medical record's unique QR code to immigration authorities for immediate verification for an easy and smooth travel process. For more information on Parkway's COVID-19 PCR and pre-departure tests, visit Parkway Shenton's website.
If you or someone you know needs to get tested for COVID-19, it is best to know about the types of tests that are available and the requirements needed to get yourself tested. For more information, please visit Parkway Shenton clinics or call +65 6812 3391.