Ah Sam's Zesty Barramundi
A Thai-inspired steamed seabass with lime and garlic, served with steamed fragrant rice.
Nutritional highlights
Barramundi is a nutritional powerhouse, rich in proteins, vitamins, and omega-3 fatty acids that promote cardiovascular health. This lean white fish is also packed with essential minerals like selenium, magnesium and potassium, which are necessary for maintaining optimal bodily functions.
Adding a zesty lime and garlic dressing not only enlivens the dish with a Thai twist, but also imparts anti-inflammatory benefits.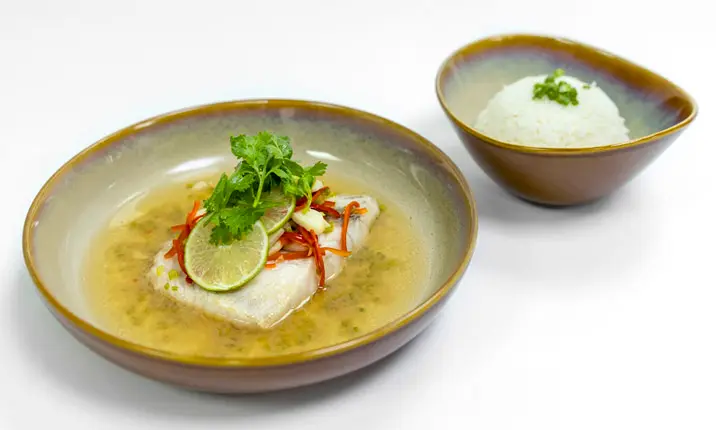 Recipe (for 10)
| Main ingredient | |
| --- | --- |
| Seabass (steak cut) | 1.6kg |
| Lime and Garlic Soup | |
| --- | --- |
| Chicken stock | 600ml |
| Lemongrass (bruised) | 20g |
| Garlic (chopped) | 100g |
| Coriander stem (chopped) | 20g |
| Red chili (thinly sliced) | 20g |
| Green lime juice | 30ml |
| Fish sauce | 20ml |
| Garnish | |
| --- | --- |
| Green lime (sliced) | 20 slices |
| Coriander leaf | A dash |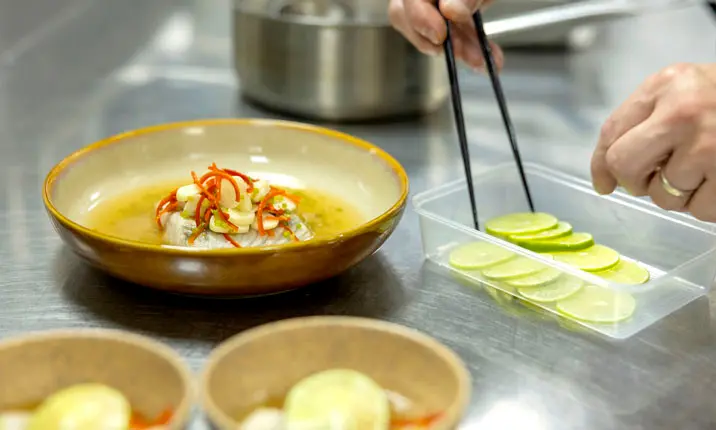 Preparation
Bring the chicken stock to a boil and add the bruised lemongrass.
Continue boiling for a few more minutes, then remove the lemongrass.
Add the chopped garlic, coriander stem, and sliced red chilli. Continue cooking for another 10 minutes.
Turn off the heat and season the dressing with lime juice and fish sauce.
Steam the seabass steak for 8 – 10 minutes, or till cooked.
Remove any excess water from the steamed seabass.
Plate the seabass and drizzle it with the lime and garlic dressing.
Garnish with green lime slices and fresh coriander.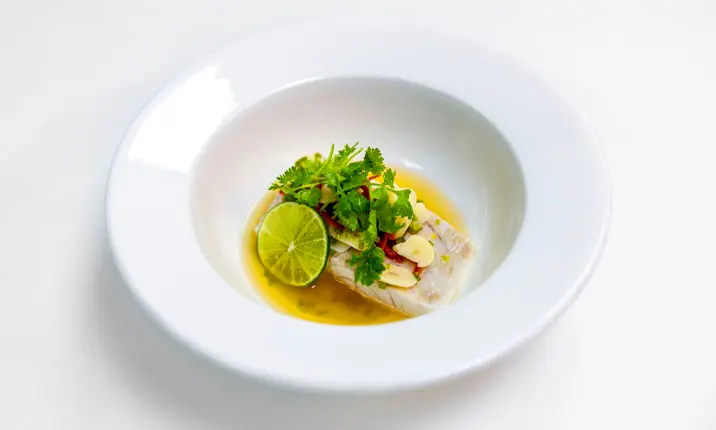 Chef Sam Leong's Zesty Barramundi is one of the dishes from our Guest Chef menu, prepared fresh daily by our culinary teams in Mount Elizabeth Hospitals, Gleneagles Hospital, and Parkway East Hospital. It's been reviewed by our dietitians to ensure that it's as nutritious as it is tasty.
Have a question about how your food choices and diet can make a positive impact on your health and wellness? Find out how our dietitians can help.