Meatless Medley
Steamed silken tofu topped with plant-based meat, served atop a velvety vegetarian broth with a side of warm fragrant rice.
Nutritional highlights
This vegetarian-friendly main course not only tantalises the taste buds, but also brings a plethora of nutritional benefits. Silken tofu, which is rich in proteins and low in fat, promotes muscle health and aids in tissue repair. The plant-based meat topping adds a savoury touch, and is free of cholesterol. Last but not least, the nutrient-packed vegetarian broth serves as a light and wholesome base that completes this meatless ensemble.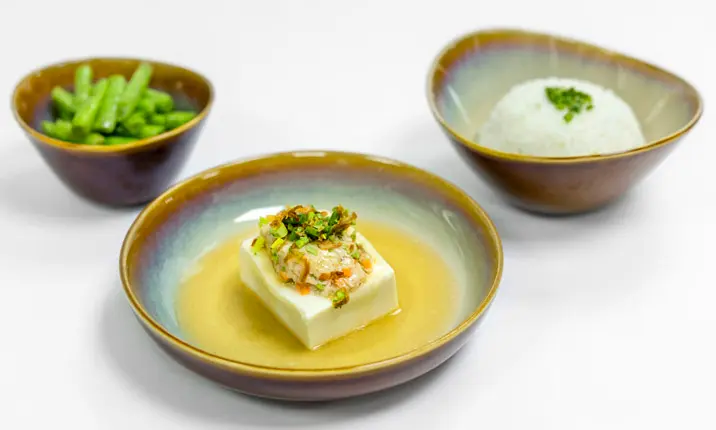 Recipe (for 10)
| Main ingredients | |
| --- | --- |
| Soft tofu | 10 pcs (300g/pc) |
| Plant-based meat | 800g |
| Coriander stem (chopped) | 100g |
| Carrot (diced) | 100g |
| Water chestnut (diced) | 100g |
| Fish sauce | 1 tbsp |
| Corn starch | 2 tbsp |
| Seasoning | |
| --- | --- |
| Vegetarian stock | 1 litre |
| Oyster sauce (vegetarian) | 2 tbsp |
| Sugar | 2 tsp |
| Corn starch (solution) | A dash |
| Garnish | |
| --- | --- |
| Spring onion (chopped) | A dash |
| Coriander (chopped) | A dash |
| Crispy shallot | A dash |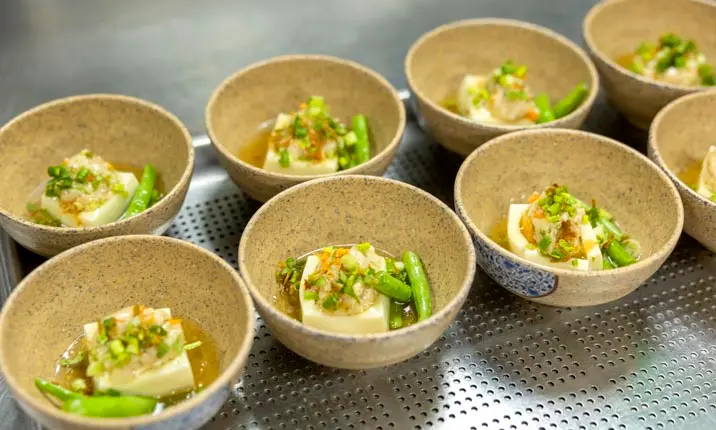 Preparation
Cut the tofu into pieces and steam for 3 minutes until all the tofu water is drained.
Coat the surface of the tofu with a bit of corn flour and set it aside.
To prepare the topping, mix the plant-based meat with the chopped coriander stems, diced carrots, diced water chestnuts, fish sauce, and cornstarch. Mould into balls.
Place one plant-based meatball on top of each piece of tofu and steam for 5 minutes.
Meanwhile, bring the vegetable stock to a boil, then season to taste with vegetarian oyster sauce and sugar.
Thicken the broth with the cornstarch solution and pour it over the tofu.
Garnish with chopped spring onion, coriander, and crispy shallots.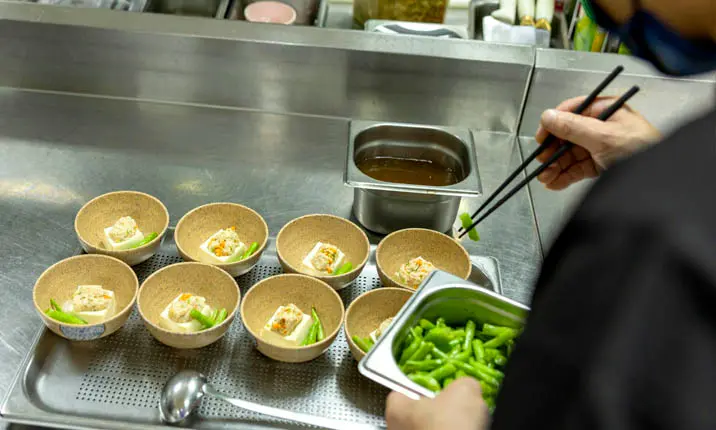 Chef Sam Leong's Meatless Medley is one of the dishes from our Guest Chef menu, prepared fresh daily by our culinary teams in Mount Elizabeth Hospitals, Gleneagles Hospital, and Parkway East Hospital. It's been reviewed by our dietitians to ensure that it's as nutritious as it is tasty.
Have a question about how your food choices and diet can make a positive impact on your health and wellness? Find out how our dietitians can help.