Herbal Harmony
A delectable oven-baked herbal chicken with coriander stem and deseeded bitter gourd.
Nutritional highlights
Chicken thighs are an excellent source of proteins, offering essential amino acids that promote muscle growth and tissue repair. Bitter gourd is low in calories and packed with vitamin C and antioxidants, which help protect the body against inflammation.
Although the combination of chicken with bitter gourd may seem unusual, it creates a unique flavour profile reminiscent of Chinese angelica root (dang gui), adding a comforting and homely touch to the dish.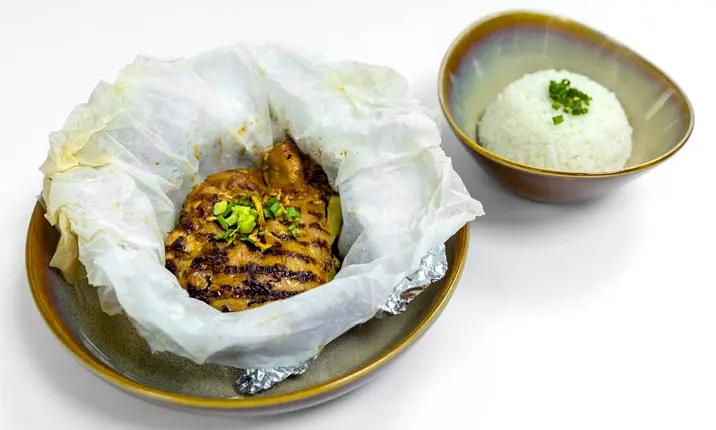 Recipe (for 10)
| Main ingredients | |
| --- | --- |
| Chicken thigh (boneless, with no skin) | 10 pcs (160g per piece) |
| Coriander stem with root | 10 pcs |
| Bitter gourd (remove seeds and cut into slices) | 300g |
| Chicken marinade | |
| --- | --- |
| Egg | 2 pcs |
| Ginger juice (strain the blended ginger) | 10 tbsp |
| Tung kwai juice (boil 2 – 3 slices of tung kwai in water) | 10 tbsp |
| Oyster sauce | 4 tbsp |
| Fish sauce | 2 tsp |
| Sugar | 2 tbsp |
| Dark soy sauce | Adjust to colour |
| Corn starch | 2 tbsp |
| Garnish | |
| --- | --- |
| Wrap with baking paper and aluminum foil | |
| Spring onion (chopped) | A dash |
| Coriander (chopped) | A dash |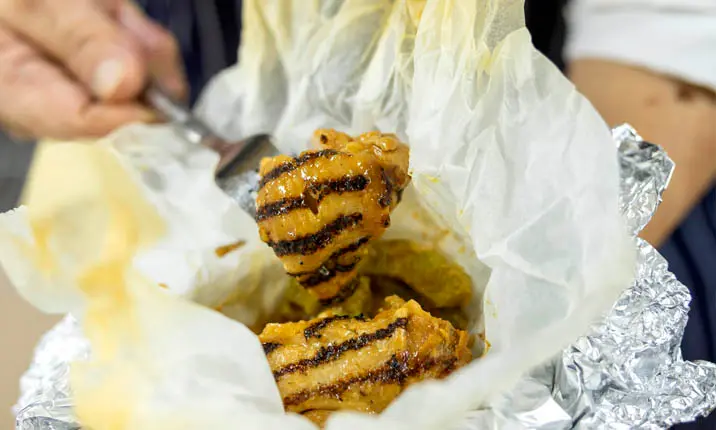 Preparation
Combine the ingredients of the chicken marinade.
Marinate the chicken in the mixture overnight, or for at least 5 hours.
Heat up a pan or wok and sear the chicken till golden brown. Set it aside till it cools down.
Place a layer of baking paper on top of a piece of aluminium foil.
Place the coriander stem and bitter gourd on top of the baking paper.
Place the seared chicken thigh on the coriander and bitter gourd, and wrap well.
Pre-heat oven at 220°C, then bake the chicken thigh for 15 minutes or till cooked.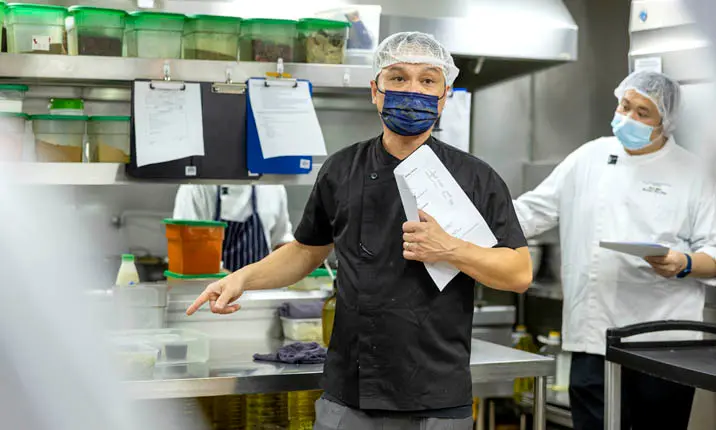 Chef Sam Leong's Herbal Harmony is one of the dishes from our Guest Chef menu, prepared fresh daily by our culinary teams in Mount Elizabeth Hospitals, Gleneagles Hospital, and Parkway East Hospital. It's been reviewed by our dietitians to ensure that it's as nutritious as it is tasty.
Have a question about how your food choices and diet can make a positive impact on your health and wellness? Find out how our dietitians can help.