Bowl of Beefy Goodness
A hearty so mein noodle soup, served with tender braised beef shin and poached bitter gourd.
Nutritional highlights
This hearty bowl of beef noodle soup showcases tender beef shin that's been slow-cooked to perfection. With its gelatinous texture and rich collagen content, beef shin provides essential amino acids for muscle repair, and iron to support the production of healthy red blood cells and hormones.
Paired with delicate so mein noodles made of wheat flour, it's a harmonious balance of flavours and nourishment in each comforting spoonful.
Recipe (for 10)
| Main ingredients | |
| --- | --- |
| Beef shin | 2kg |
| Chinese red dates | 10 pcs |
| Ginger | 100g |
| Coriander | 200g |
| Spring onion | 100g |
| Cinnamon | 2 sticks |
| Star anise | 2 pcs |
| So mein noodles (poached till soft) | 20 stalks |
| Bitter gourd (poached) | 300g |
| Seasoning | |
| --- | --- |
| Vegetable stock | 4 litres |
| Bean paste | 4 tbsp |
| Oyster sauce | 6 tbsp |
| Rock sugar | 60g |
| Dark soy sauce | 2 tbsp |
| Fish sauce | A dash |
| Garnish | |
| --- | --- |
| Spring onion (chopped) | A dash |
| Coriander (chopped) | A dash |
| Cripsy shallots | A dash |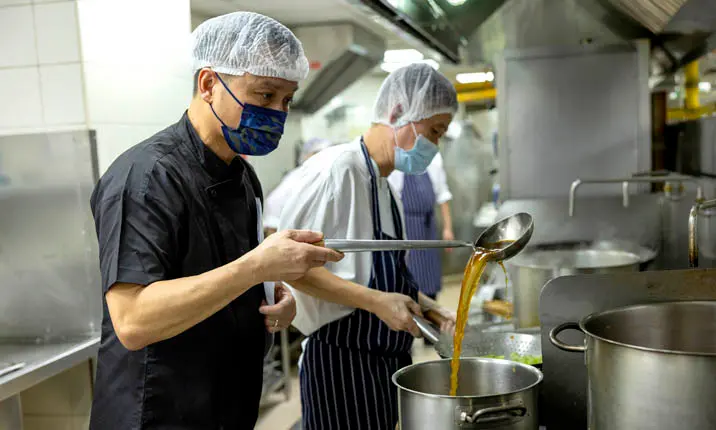 Preparation
Poach the beef shin with hot water for 20 seconds, then quickly stop the cooking process by rinsing it under running tap water. Set it aside.
Place the beef shin in a pot. Add the Chinese red dates, ginger, coriander, spring onions, cinnamon sticks, and star anise.
To the pot, add half of the vegetable stock and all the seasonings (bean paste, oyster sauce, rock sugar, and dark soy sauce).
Simmer on low heat for about 1 hour 45 minutes till the beef shin is soft.
Remove the beef shin once it is completely soft, then strain the sauce.
Bring the sauce to a boil and add the remaining half of the vegetable stock. Season with fish sauce.
Cut the beef shin into pieces, and place them on top of a bed of cooked so mein and poached bitter gourd slices in a bowl.
Garnish with chopped spring onion, coriander, and crispy shallots.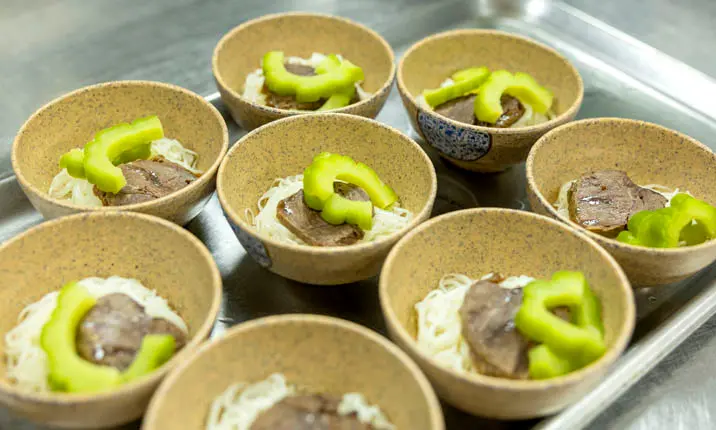 Chef Sam Leong's Bowl of Beefy Goodness is one of the dishes from our Guest Chef menu, prepared fresh daily by our culinary teams in Mount Elizabeth Hospitals, Gleneagles Hospital, and Parkway East Hospital. It's been reviewed by our dietitians to ensure that it's as nutritious as it is tasty.
Have a question about how your food choices and diet can make a positive impact on your health and wellness? Find out how our dietitians can help.